Subcontractor and Supplier Service
Prequalification and Compliance Management
A versatile information service that benefits subcontractors and suppliers by showcasing them to main contractors as capable professionals that are qualified to work. Builder's Profile is the open-access Common Database that construction industry buyers search when looking for suppliers.
With Premium and Basic membership levels available, Builder's Profile provides one convenient secure system to keep, organise and maintain all of your business, PQQ and compliance information; answers, statements, documents, certificates and policies etc. And as Builder's Profile is built on the open-access Common Database platform, it complements and easily integrates with other schemes.
Easily solves your PQQ problems.
Subcontractors know the time, cost and repetitive pain of completing, maintaining and managing multiple PQQs and compliance information. Builder's Profile solves these problems in a few simple steps.
Register your company
Select your clients
Complete, submit  & maintain your Profile
Your Company Profile may be built over time in manageable stages. If you wish, we'll help you to complete your PQQ information so you can 'go-live' easily and quickly. Please contact our Support Team for more information about the two levels of memberships available.
Effective Profile Distribution With Premium Membership
Premium Members maintain a single Profile available to 70% of UK main contractors and showcases your company as qualified, professional and ready to work. A premium Profile is effectively distributed to your Clients, making it available for main contractor pre-qualification approval.
Premium Membership is currently available for £349 + VAT pa.
Flexible Client Pre-Qualification Administration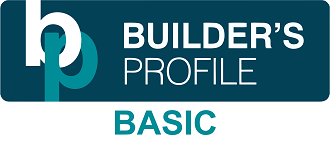 Basic Members complete and maintain individual main contractor profiles with the free service.  Join the subcontractor database, where construction industry buyers search when looking for suppliers.