Industry Partners
The Builders' Conference

Essential intelligence for the Construction Industry since 1935, The Builders' Conference has been following a unique path as a not for profit-making trade association run by builders for Builders. Members have access to vital information online about current tenders and contracts awarded in the UK. It is one of the most up to date and reliable sources of information with the searchable data regularly updated during the day.
Access Construction

Access Construction produce the Construction Industry's leading Estimating, Cost Planning and Surveying application, Access ConQuest Estimating Software. A highly focused industry centric approach has created a platform that accurately meets the needs of construction and is regarded as the industry standard estimating tool for contractors of all sizes. With over thirty years of continual product development ensure Access ConQuest solutions set the standards for: features, stability, ease of use and flexibility.
SSIP

Safety Schemes in Procurement was founded in May 2009 following the Government report on Accelerating the SME economic engine: through transparent, simple and strategic procurement. Supported by the HSE, SSIP aims to streamline pre-qualification and encourage straightforward mutual recognition between its Member Schemes. Builders Profile has been an advocate of SSIP since its inception and openly displays all current scheme members within their database enabling subcontractors & suppliers to state which scheme(s) they are accredited to.
Constructionline

Originally created as a Government department, for over 20 years Constructionline have been supporting thousands of businesses across the public and private sectors. In March 2020 Builder's Profile were acquired by Fortius Group and joined Constructionline with Altius VA Limited as part of a group of companies serving the supply chain risk management industry. Builder's Profile continues to operate alongside Constructionline, both offering complimentary supply chain management services to the Buyer community while creating the data exchange efficiencies the construction industry and wider market require.
Considerate Constructors Scheme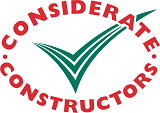 The Considerate Constructors Scheme is a non-profit-making, independent organisation founded in 1997 by the construction industry to improve its image. The Scheme is concerned about any area of construction activity that may have a direct or indirect impact on the image of the industry as a whole. The main areas of concern fall into three categories: the general public, the workforce and the environment.
COINS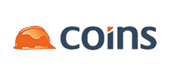 With 30 years industry experience, offices in 10 countries and clients in over 40 countries COINS offers its clients a blend of consultancy, construction software solutions and services that deliver measurable solutions, with continually evolving and completely integrated software and technology.