Open-Access Common Database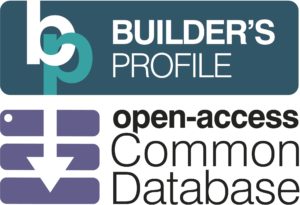 Builder's Profile is the Construction Industry's open-access Common Database service providing compliance and PQQ information. Since 2009, Builder's Profile has delivered a unique service to the construction industry, the ability for subcontractors & suppliers to present PQQ and Compliance information to multiple Main Contractors. But without the need to complete multiple PQQs.
The Open-Access Common Database For Subcontractors
As a submitted profile is published to the database used by all the main contractor users – By submitting the minimal important company information quickly, ensures a greater number of Builder's Profile subcontractors are visible and included across the 100's of searches that are carried out daily.
It is now even easier to ensure your company is visible to 1000's of main contractor users by choosing and submitting to the 'Open-Access Common Database'. This Profile only requires Operating areas and Trades, Services, Products or Materials to be submitted – It really is that easy.
For Main Contractors
It presents every piece of information they require without being restricted to an imposed set of questions. It leaves them in complete control of the information and of their own chosen assessment processes. It provides a wealth of supply chain management tools such as Approvals; Automated Workflow; Automated Email Reminders; Analysis; KPIs; Mapping; Data Exports; Project Management and Digital Construction.
It does all this with zero enforced costs – purely financed through efficiency savings – and provides a genuine win-win solution through its unique model of collaboration and data sharing.
From the start, we have championed the concept that the ultimate solution to PQQ duplication is a single shared-access database where every vendor stores and maintains their compliance information and every contractor is able to see the information they need.
In September 2012 – the early days of the creation of PAS-91, our Chairman gave a presentation to the PAS-91 Steering Group entitled 'The Benefits of a Common Database'. These ideas were implicitly adopted by BSI in the introduction to the final 'PAS-91:2013' document where they state:
 "The significant benefits from uniform application of the PAS 91:2013 question sets can only be fully realised with the availability of a single, universally shared electronic data base in which those seeking pre-qualification can securely store and manage their prequalification data and from which those seeking to build a list of suitable suppliers can draw the information they require upon submission of appropriate qualification." (PAS 91:2013 Introduction Page VI)