Complaints
At Builder's Profile we are committed to providing a high-quality service to all of our customers. However, if you believe that things have gone wrong, please send us your complaints and comments. We take these very seriously.
We are accredited to the British Standards Institute's BS EN ISO10002:2018. This means we must follow a strict process when dealing with complaints.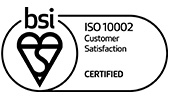 In the first instance, if you are unhappy about any part of the service being provided to you by Builder's Profile, you should contact our Support Team who will be happy to assist you with your query. Please contact our Support Team:
How to Make a Formal Complaint
In most cases, our Support Team will be able to help you resolve your query. However, if you are dissatisfied with the outcome, or feel that your complaint needs to be dealt with in a more formal capacity please contact us:
By email to: complaints@fortius-network.com with 'Formal Complaint' in the subject field
Or by letter to: The Complaints Manager, Builder's Profile, Basepoint Business Center, 15 Jubilee Close, Weymouth. DT4 7BS
Whichever method of contact you use, please clearly state your Builder's Profile account number, full details of your complaint, what you would like us to do to resolve the issue, details of any action you have already taken to try and resolve the issue and the method by which you would like us to respond (whether you would prefer a call back or email).
What happens next?
We will acknowledge receipt of your complaint and call you to discuss your concerns within one working day. We will investigate the issue and provide a full written response within 15 working days of receiving your complaint. If this is not possible, we will explain why and give you a date by which you can expect a full reply.
If you're not satisfied with our reply
If you're not satisfied with the reply to your complaint, you can request a review of the complaint. Please email or write to us and state why you disagree with the response and how you would like the complaint to be resolved.
Users' views
One of the ways in which we can continue to improve our services is by listening and responding to your views. We would also welcome any comments or suggestions you have on our complaints procedure, to make sure it works as efficiently and effectively as possible. For more information please download our Group complaints policy here .
Please note: We cannot be held responsible for the working practices of any of our members. If you have concerns about a company, please contact the Citizens Advice Consumer Advice line, who will pass your complaints to the appropriate local authority trading standards service.
To report a complaint to them, call the helpline on 03444 111 444 or visit www.citizensadvice.org.uk