SSIP – via Acclaim Accreditation
We are pleased to offer membership levels incorporating a varying level of Profile availability and assessment. Designed to provide a flexible supply chain inclusion approach, members choose the level suited to their company status and clients' requirement, ensuring time and money is well spent.
The Assured H&S Assessment Choice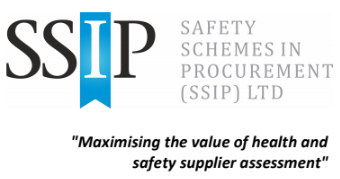 Clients have a key responsibility, which they share with their suppliers, for the health and safety of everyone who works at their premises. This means that Clients must make sure that any suppliers they appoint are competent to do their work.
Supported by the HSE, Safety Schemes in Procurement (SSIP) was developed as an umbrella body to give confidence to Buyers that their suppliers have been assessed to the Construction Design and Management Regulations 2015 as well as the SSIP core criteria.
Efficiently Demonstrate Your Health & Safety Competence
Acclaim Accreditation specialises in the award of SSIP (Safety Schemes In Procurement) certification and is the go-to provider for health and safety accreditation for over 3,000 organisations. When you purchase Acclaim Accreditation, Constructionline carry out an independent online assessment of your company's health and safety documentation and work activities, giving your customers assurance of the systems you have in place.

One Account, Multiple Services
There are three memberships available offering SSIP Via Acclaim Accreditation – SSIP, Professional and Premium Gold. Our Basic Members still have the facility to maintain multiple client Profiles and can purchase an SSIP – via Acclaim Accreditation certification. This facility can be considered as a 'bolt on', for a flat Acclaim tiered rate which then upgrades them to SSIP Membership.
Premium Members applying for SSIP will be upgraded to Professional Membership, which qualifies for the preferential premium rate. Builder's Profile Professional Members maintain a single profile for both services, awarded certification is automatically uploaded and easily published to a vast network of Buyers on submission.
The next and most comprehensively assessed membership to demonstrate your organisational professional standing and Health and Safety competence is Premium Gold; this single Premium Profile is fully assessed and aligned to Constructionline's, Gold membership. When assessed, your business will meet PAS 91, SSIP – via Acclaim Accreditation or Deem to Satisfy (DTS), and the Common Assessment Standard (CAS) – which is continuously assessed as critical detail expires, maintaining the standard throughout the year.
Use Your Profile To Apply
For SSIP and Professional member applications you'll be prompted to edit and complete the 'SSIP – Via Builder's Profile' Profile. The assessment will begin on receipt of your payment and submission. The assessor assigned will be in contact to walk through your application, awarded certification will be automatically uploaded to your Dashboard.
For the Premium Gold application, the Constructionline Profile can be completed, which includes 'SSIP – Via Builder's Profile'. For Basic Members upgrading, depending on your starting profile point, may find more detail will be required. For existing Premium and Professional Members upgrading, your application will be nearly completed. This comprehensive assessment has a guideline approval timeline of up to 10 business days.
Price Tiers For Assessment Memberships
For the memberships which include an assessments service, the prices are determined on company turnover tiers and can be calculated on your account dashboard 'upgrade membership' option, please click below to login. If you have any further questions regarding the Builder's Profile service and how the different memberships available can work for you please contact our Support Team.