Save £000's at The Enterprise Software Roadshow – Old Trafford Stadium, Manchester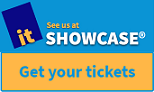 If you are looking for ERP management software solutions and a day at Old Trafford Stadium, this could be the exhibition for you. Join us on Tuesday 18th Sept 2018 10am – 2pm.
itSHOWCASE is designed for businesses who need to update their management software systems, taking a self-service approach to their selection process. It's unlike any other exhibition you have been to.

If you are managing a supply chain, no matter what size, we can help with construction's costing, competence and compliance challenge.
Do come and see us to find more about us and the off the shelf  'Foundation Service' that's proven to save time and reduce adverse risk. Considering the service has 'no set up costs' and can be implemented across your company with unlimited users, it's proven to save money too. No more paper questionnaires either – now wouldn't that be great.