Constructionline Data Import
Summary
Premium members that are Gold or Platinum members of Constructionline will have the facility to import verified Common Assessment Standard data from their Constructionline account.
The Common Assessment Standard is a newly developed standard endorsed by Build UK and the Civil Engineering Association (CECA). A standardised questionnaire built on from the PAS 91 prequalification, crafted by expert clients, suppliers and trade organisations. Its purpose is to help both clients and contractors improve supply chain efficiency, reduce supply chain risks, and most importantly save time money in the prequalification process.
The BP questionnaire has been matched and mapped with questions within Constructionline. The data import requires a linked BP Premium and Constructionline account. Only 'Verified' data and documentation will be imported into the Premium Profile.
How To
The Constructionline Import is accessible via the Premium Dashboard within Account Links.

From within the Import page, a Status will be provided to confirm any one of the following;
No Link is established between BP and Constructionline.
Data is available to import
The data import is currently processing
Data has been imported
To begin the Import, click 'Request Import'. This will begin the process and the status will update to advise 'Your request to import is queued' and will also provide a time and date stamp.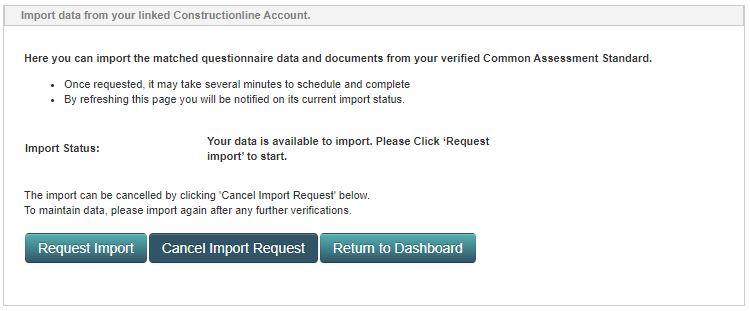 Whilst your verified Common Assessment Standard data and documentation is being imported please refresh the page to be notified on the current import status. The option to cancel the Import is accessible should more recent data be available or if clicked by mistake.
Please note that the 'Edit Profile' option will be greyed out until the import is complete.

Once Imported, the status will confirm when the data was imported into the Premium Profile and the 'Request Import' button will become active again for any future verifications.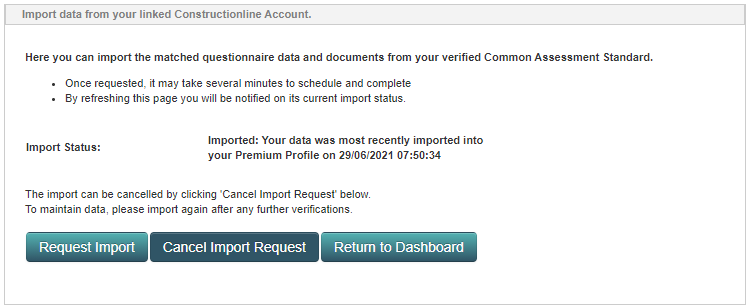 Imported documentation will be listed in the Document Manager with 'Artio' as the prefix of the file name. 'Artio' is a Constructionline internal system name. All imported documentation will be auto selected to their mapped document slot within the BP Questionnaire.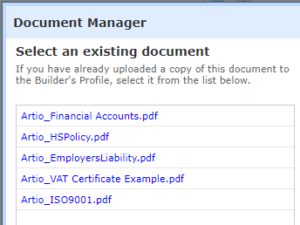 Further imports can be performed should your company information be recently verified by Constructionline.
Troubleshooting
The Constructionline import button is not available to Basic members or to Premium members who have not yet upgraded to Premium fully by selecting a client to promote.
If the data import is taking longer than expected, your BP Account may not be linked to Constructionline. Please contact our Support Team and they will be able to assist.
Account 'Not Linked' message: If you receive this message when trying to import your data, the database does not currently recognise the Constructionline account. Please contact the Builder's Profile Support Team, who will be able to check your account details and make the link request.

Only

Verified

Common Assessment Standard data will be imported in the Premium Profile. Your Verification status will be available via your Constructionline account.
Related Topics: