Spadeoak puts in the spade-work to win prestigious Builder's Profile sponsored Award at 2016's BCLive Event at The Savoy
Aggregate Engineers Spadeoak's 2016 efforts paid off by attaining 'most main contractor approvals' to win the Builder's Profile sponsored BCLIVE New Business Achievement award, presented at The Savoy hotel, London in December.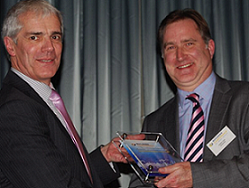 The Builder's Profile platform manages PQQ & Compliance information and presents contractors as: experienced, qualified, site-compliant and professional. And more than that – available for Main Contractor approval. In 2016 no contractor achieved a higher number of Main Contractor Approvals than Spadeoak. Hence their Award – presented at The Builder's Conference prestigious annual Christmas Luncheon which also marked the second BCLive league table awards.
Says Paul Long of Builder's Profile, seen here with Spadeoak's beaming Commercial Manager Robert Legg, "…these awards are different. They use real data to show which business has actually 'won most business' or achieved a 'higher number of Main Contractor approvals', so the awards are unique and really mean something – well done Spadeoak!"
Builder's Profile main contractor members don't accept third party approvals; they assess their Supply Chain to meet their own measurement standards. This greatly helps in the defence of reputational risk by facilitating better compliance management. A new premium Profile can be completed and submitted to all main contractor members in less than an hour; its then ready for instant assessment.
BCLive, the industry's only real-time league table of contract wins, allows The Builder's Conference to present a fact-not-fiction situation report of the UK construction industry. It also allows recognition of contractor success by giving awards that are organised into three categories:
The New Business Achievement Award – Winners – Spadeoak
The President's Award – Winners – McLaren Construction
The Overall Winner's Award – Winners – Laing O'Rourke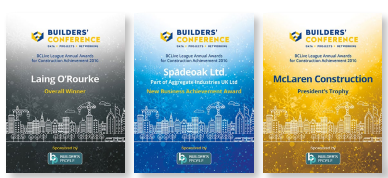 Inside Construction includes a full round up of the prestigious event Click here
For more information on Spadeoak, part of Aggregate Industries UK Ltd Click here
Sign up and be seen
Sign-up for a PAS-91 2017 aligned Subcontractor Premium Profile now and be instantly accessible to over 70% UK estimators, surveyors and buyers.
CREATE ACCOUNT